Hobby time has been a bit elusive, but I have been working on this Razorwing.
The base is all done.  It's continuing with my dead Necron theme, with a piece of wing from a Night Scythe.  I'm trying to evoke the wreckage scraping off the frozen surface of the ground when it slid to a halt.  I like the color of the exposed dirt (a combination of paint and weathering powders), though I wish it had a bit more texture.  As it is, it's just the surface of the plastic base.  I didn't have anything finer than the sand I used for the rest of the base.
The sprue bits are supposed to represent random bits of wreckage, but they look more like sprue than I would have liked.
I'm very proud of the bullet holes.  It's the first time I've tried it.  I just drilled a hole with a pin vice, expanded it a bit with a hobby knife, then cut out little wedges.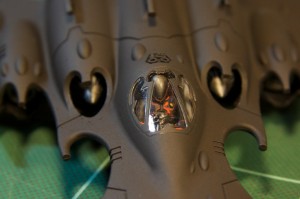 As I usually do for these kinds of models, I painted inner bits first.  That means the pilot, cockpit, and engine were done before I glued the main fuselage together.  I masked off the canopy with Tamiya masking tape, and this part of the engines with blobs of wet tissue paper.  The gun mounts are the same, and are magnetized so I can swap weapon types.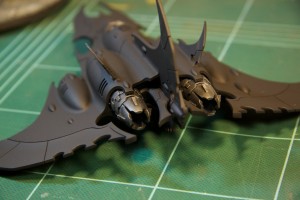 The rear engines were also done before assembly, then carefully masked off with Tamiya tape.  This probably wasn't actually worth doing for this model.  I thought there was a bit more space between the engine nozzles and the overhangs on the fuselage.  You can't tell that it's painted underneath.
Hopefully I can wrap this up over the next week, and can then turn my attention to the Reaper I bought with the Revenant Titan many months ago.