Just before my first kid was born a few years ago, I decided to make a mobile out of some egg planes made by Hasegawa.  I figured I should do the same for the second, born earlier this month.
The first set was modern-era fighter planes (F-14, F-15, F-16, and F/A-18).  For the second set, I focused on WWII-era planes instead.
As with the first set, I wanted to skip any of the dangly bits which might break off and become a choking hazard.  This means landing gear, missles, etc.  I filled in the holes with putty and sanded them smooth.
These were all pretty quick builds, since the kits are just a few pieces.  I experimented a bit with airbrushed camo, hand-painted some details, and applied decals as directed, although I did end up skipping the swastikas.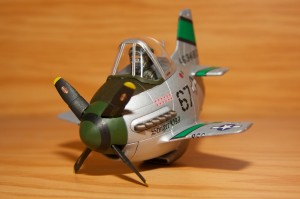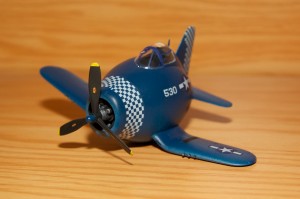 I'm pretty happy with the results.  I ended up hand-painting the struts on the canopies, which means they don't quite match the rest of the plane.  I should have masked it off and painted it with the rest, but that's a lot more work.