More Ultramarines, hot on the heels of the tanks.  This time I've done a set of the plastic sniper scouts, which I got as part of the strike force.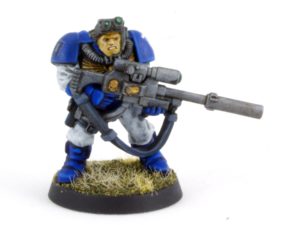 Scouts have small shoulder pads, and I didn't have the small-U decals.  I did have some from the old space marine bike set that had a the U in a circle, so I just trimmed off the circle.  I think it works pretty well.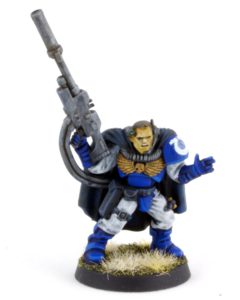 I decided to use the pointing hand on the sergeant, since just about everybody puts on the other hand.  I should have put the scope back on his rifle, though.
I was pleased to see that it had parts to either do the missile launcher guy or another sniper — including the torso and head.  All you need to do to field both is to find some legs and a base.  As luck would have it, I have some scout legs in my bits box.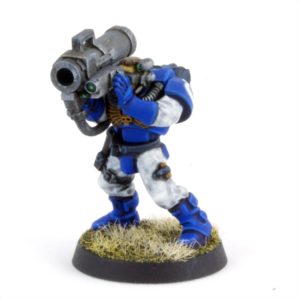 I somehow missed that the crouching guy had his own torso, complete with cloak that goes around the leg.  I noticed after basecoating, and was able to correct it without any real problems.
Updated September 2018 with improved images.