These markers are the final models I wanted to get done ahead of Celesticon.  All told, I was able to bring a fully painted 50 soulstone crew with painted markers to my first non-demo Malifaux game.
These are pretty simple scheme markers.  They are Armskeeper resin crystal put on 30mm bases, with a little sand and grit to fill out the base.  These should be nice faction-neutral markers, with different colors to potentially indicate different things.
The package came with 12 crystals, which I think should be plenty.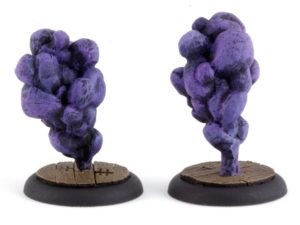 The Illuminated have a power to leave 30mm Brilliance Cloud markers behind.  I decided to make specific markers for them, since I expect to focus on Lynch for a while.  It also gave me an excuse to play with Armorcast cinematic effects.
As for the casual play event itself, I was paired up with Steve, who has been playing for a few weeks and brought Ramos.  I had fun, but I got smashed pretty badly.
I was pretty comfortable with the basic mechanics, though I had a difficult time remembering all the things my crew could do.  By the end of the game, I was getting a lot more comfortable with it, although I still don't think I'll be able to combo too well.  Steve had come with a handy cheat sheet, with suggestions of combos, and powers he could get off with certain cards in his hand, etc.
I think I need to try to get in a few games learning each model before adding new ones to the mix.
I'm looking forward to playing more.  I'm confident that the next game will go smoother.
Updated October 2016 with improved images.