I've been using some Ikea storage boxes to hold paint, but I've wanted to upgrade for some time.  I've out-grown the number of boxes I had, but Ikea stopped selling that particular one.  I wanted some kind of rack, and after shopping around, settled on the ones made by Gamecraft Miniatures.
These aren't the sexiest of all the options, but I like that they are available in a lot of sizes (I also have Tamiya paints, which I may want to put on racks later) and is located in the US (which means reasonable shipping).  That gives me confidence that I can expand later if needed.
They warn that there's a 5-15 business day waiting period, since kits are made to order.  I got the shipping notice very late on the 15th business day.  I was definitely getting impatient, but it was (barely) within the promised window.
The instructional YouTube video is worth watching.  This was my first time using CA accelerator.  I let the guy at the store talk me out of getting an needle applicator bottle.  This ended up being a mistake.  I sprayed the stuff all over the damn place, including my hands.  It still worked, though.  I wouldn't want to have tried to put it together without the accelerator.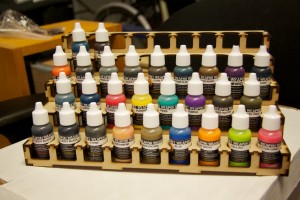 All in all, I was able to assemble the three dropper bottle (26 mm) racks inside of an hour.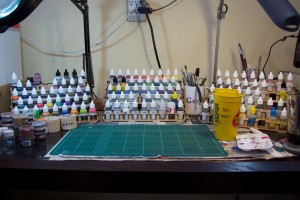 I thought I was going to lay them out all in a line, but I think I like the angled approach after all.  I'm kind of kicking myself for not buying the 45º bend pieces, so there may be a followup order sooner than I thought.